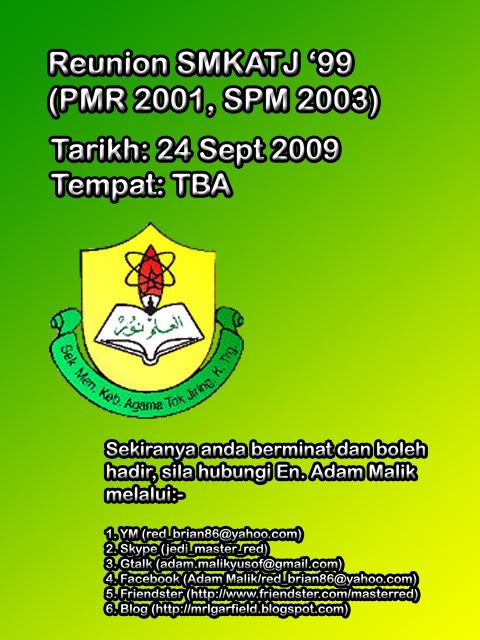 To all students of SMKATJ batch 1999, PMR 2001 and SPM 2003... This announcement is for you...
We are planning a reunion for all of us to meet and reminisce the old days. Planned date is on 24th September 2009 (might change with notice) and the venue is TBA... For that purpose, we are surveying who can attend the reunion for better planning in the future. All students from the batch, no matter from any class, be it Al-Furqan, Al-Kauthar, Al-Qalam, An-Nur, bla, bla, bla (forgot already maaaaa....) you can join...
So, if you want to join or have any suggestion on the matter please contact me by either leaving a comment on this entry, leaving a message on my cbox, friendster, facebook or just email me... Please provide your full name, your email address, and your phone number. I'm looking forward to a big crowd of SMKATJ '99 on that day...
Please pass this down to anyone from our batch that you know of...